---
---
OPPO Reno 6GB 256GB
Reno is about seeing the world from completely new perspectives. The technology behind Reno elevates photography and mobile entertainment to all-new heights. Let Reno further your vision.
Shot on Reno 10x Zoom
Bringing You Closer To The World Around You
Seize the Night with Ultra Night Mode 2.0
Reno series is equipped with a Sony IMX 586 48MP ultra-clear camera. Its 1/2.0'' ultra-large sensors and f/1.7 ultra-large aperture combine with MFNR and HDR software algorithms, protecting users from over-exposure and create stunning detail in low-light conditions. The new addition of AI portrait optimization for night photography can differentiate between subject and background, ensuring the skin tone is still the same and delivering a professional photo.
1/2.0''
Ultra-large sensors
f/1.7
Ultra-large Aperture
Multi-frame
Noise Reduction Technology
AI Portrait
Optimization in Low light
True Beauty Revealed in 48MP Super High Definition
We've equipped Reno series with a 48MP super HD lens that delivers super high resolution and greater color accuracy for more vivid detail in your photos.
Featuring a large aperture, Reno series takes effortlessly professional portrait photos, with 5 stylish bokeh settings to choose from.
Natural AI beautification performs even with strong backlighting.
Dazzle Color Mode applies pixel-level color restoration for life-like vivid colors.

Reno 10x Zoom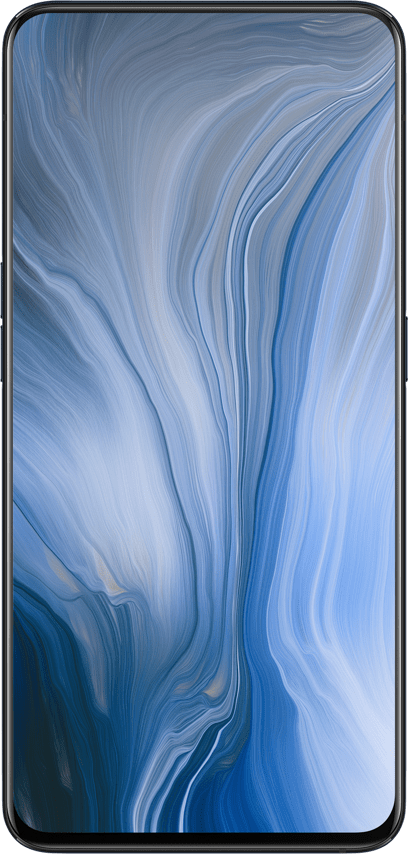 Reno
Panoramic Screen
See the Details of Your Imagination
Reno Series offers you a completely uninterrupted screen experience. There's no holes or other distractions and a chin of only 3.5mm height makes a huge screen-to-body ratio of 93.1%.
93.1%
Screen-to-Body Ratio
Corning®
Corning® Gorilla® Glass 6
No Stroboscopic
Low light
Eye Protection Certification
by TÜV Rheinland
Hi, Reno
The front camera, Front-facing Soft Light, receiver and rear flash are all cleverly housed within the compact rising structure. The pivot structure movement is incredibly intricate, first moving fast then slow. Less mechanical, more graceful. All of this is accomplished in 0.8s and in absolute silence.
Unlock at the Speed of Light using the Hidden Fingerprint Unlock
An upgraded recognition structure combined with a more efficient algorithm enables even faster unlocking. The speed for fingerprint unlocking has been increased by 28.5%.
The brightness of unlock area has been increased by 10%.
The speed for fingerprint unlocking has been increased by 28.5%.
Fully hidden camera lens. Smooth and sleek.
Beauty lies within. Reno's powerful camera is hidden under a solid piece of durable glass creating an uninterrupted, flat surface.
Reno 10x Zoom
Dual-frequency GPS for Pin-point Navigation
Great connectivity is a must for mobile devices. Reno 10x Zoom has adopted the dual-frequency GPS, L1+L5, to guarantee location and navigation precision. L5 frequency provides greater accuracy while L1 frequency captures the signal faster. The dual-frequency GPS has a 66.8% increase in signal accuracy from single frequency GPS.Game Boost 2.0 – Frame by Frame Optimization
The Reno series has been engineered with gamers in mind, which is why we've added further optimization. The upgraded version looks even further into your phone's performance, looking at latency and control issues, analyzing touch control and refresh rate. The Reno Series has been awarded a High Performance Certification from TÜV Rheinland. Gaming has never been so smooth.
AOV:
Frame rate stability increased by 31.38%
PUBG:
Possibility of lag lowered by 44.1%
Large Battery + VOOC 3.0 = Guaranteed to Last
There's nothing worse than a low battery when you're gaming. Reno is equipped with a 3765mAh battery while Reno 10x Zoom goes up to 4065mAh. The newest VFC flash charge algorithm drastically increases the speed of trickle-charging. The charging speed is increased by 100% at the trickle charging stage. Charge and play? No problem. Heating is under control, and performance is through the roof.
Immersive Audio Tuned by Dolby Atmos
Dolby Atmos brings enhanced depth to mobile audio on the go. In addition to enhanced sound for movies and games volume leveling and voice enhancement are tuned for daily use.
Reno 10x Zoom
International Warranty Services for Quick Fixes Anywhere in the World
OPPO is committed to bringing our users a friendly, convenient, and professional after-sales service, so why should this be limited to the place where you bought your smartphone? Users can go to any of OPPO's authorized service centers in which the OPPO Reno 10x Zoom is officially sold to enjoy repair and upgrade services.International Warranty Services will be able to save our users the hassle or inconvenience of phone repair while exploring the world. Just go to any OPPO service center for a fast and easy solution.
Remarks:
1. The 10x Hybrid Zoom function is only available for Reno 10x Zoom version.
2. 10x Hybrid Zoom: 10x Hybrid Zoom uses an 8MP ultra-wide-angle lens, 48MP ultra-clear main camera, and 13MP telephoto lens combo to bring very good results in a variety of environments of 10x Zoom. (Reno 10x Zoom version provides for a full 10x range of zoom with variable focal length from 16mm – 160mm.)
3. Reno adopts a 48MP+5MP dual rear camera.
4. 6.4 inches (Reno) or 6.6 inches (Reno 10x Zoom)  is the diagonal length of the display when the four rounded corners are taken to be pointed corners (i.e. actual size is marginally smaller).
5. 4065mAh is the typical battery value for Reno 10x Zoom. 3765mAh is the typical battery value for Reno.  
6. The data of Corning® Gorilla® Glass 6 is from the official website of Corning.
7. The comparative data of temperature rise comes from OPPO internal tests. The environment temperature is 25±5℃, and the default setting is HD and high frame rate, to simulate the user playing the game to compare the temperature rise with or without copper pipes liquid cooling technology.
8. In the case of multi-path scenarios in specific cities, with CEP 95%, the dual-frequency GPS has an 66.8% increase from single frequency GPS.
9. The frame rate acceleration data is from OPPO internal tests. At room temperature, with high frame rate and high picture quality mode on, to do a live 5V5 matchup and compare the performance with or without Frame Boost.
10. The touch acceleration data is from OPPO internal tests. The comparative data is about the response performance of tap and swipe on the desktop, movement speed of the game characters and so on.
11. The charging speed is increased by 100% at the trickle charging stage: the comparative data is from the comparison between VOOC 3.0 and VOOC 2.0.
12. International Warranty Service is only available for Reno 10x Zoom version. In countries or regions where it is officially sold, users can enjoy the repair and upgrade service at any OPPO authorized service center, excluding the return and replacement service. International Warranty Service is only available in these regions: India, Myanmar, Pakistan, Sri Lanka, Bangladesh, Nepal, Indonesia, Vietnam, Cambodia, Philippines, Malaysia, Thailand, Egypt, Morocco, Kenya, Saudi Arabia, the United Arab Emirates, Tunisia, China Taiwan, Singapore, Australia, New Zealand, Japan, Russia, Kazakhstan, France, Italy, Spain, Poland, Netherlands, the United Kingdom, Turkey. Reno 10x Zoom devices in the above countries or regions can also enjoy IWS in China mainland.
13. Product pictures are for reference only. Please refer to the actual product. Certain product specifications and descriptions may change due to reasons like changes in suppliers. The data in the page came from OPPO designed technical parameters, and test data from the laboratories and from suppliers. In actual circumstances, the data will differ slightly, depending on the test software version, specific testing environment, and specific version.
---